Transportation
The 21st century has brought unprecedented challenges to the transportation industry and demand for transportation has increased dramatically. In the past, the answer would have been to simply build more infrastructures. However, severe financial, environmental and social constraints limit our ability to expand infrastructure.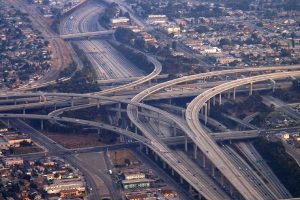 This convergence of ballooning demand and limited expansion has put enormous pressure on transportation systems, creating issues related to congestion, energy costs, environmental factors and passenger safety. The answer lies in developing a greater understanding of these complex systems for more informed decision making.
Solving Transportation Challenges of the 21st Century
We provide useful tools and strategies to meet the challenges facing transportation systems today. Our solutions have been leveraged by professionals around the world to manage, plan, evaluate and maintain transportation systems.
Organizations including railways, airports, seaports, public mass transit groups, motor vehicle administrations, trucking companies and others have turned to our solutions for:
Routing and scheduling/dispatch – Plan point-to-point routes to optimize your mobile workforce
Asset Tracking – Monitor the location and movement of your trucks, shipments or field staff
Territory Optimization and Planning – Optimize field staff territories and analyze customer locations
Site Selection – Find the best site for your next warehouse, distribution centre or service department
Supply Chain Management – Model supply and delivery points
Fleet Management – Manage fuel, payroll and vehicle maintenance costs effectively while delivering excellent service
Capacity Planning – Conduct demand modelling, plan your ridership and gain a better understanding of traffic congestion
Infrastructure Management – Manage and maintain bridges, tunnels, track networks, rail yards and other assets.